WHERE TO OBTAIN MATERIALS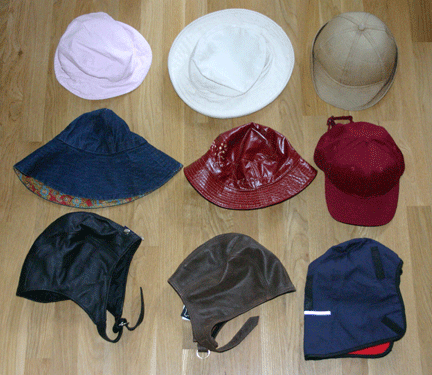 Although leather aviator type hats work the best because they cover the whole head and enable tape to secure the Velostat, almost any type of hat that holds eight sheets of Velostat over your head will work.
You can also sew the Velostat to a cloth hat by using a sewing needle for leather which can be purchased at a fabric shop. Large hats with a band on the inside make good thought screens because all you have to do is cut and insert the Velostat into the inside hat band. You can then sew or tape the Velostat to the hat band.
Contact this website if you need directions for making thought screens from other types of hats.
Tape
Tape can be purchased at any hardware store, 2 inch wide tape is recommended. Suggested tape is Nashua All-Weather Duct Tape, part number 398 HVAC. If you use duct tape, try to purchase a professional grade duct tape, which has better adhesive and is stronger than cheap duct tape.
Leather Hats
The hat shown above (bottom center), a leather aviator's hat, also known by Motorcyclists as a "Rocky Bullwinkle Hat," is manufactured by Henschel Hat Company, Part number 7471-60. This hat, and a similar model, part number 7471-41, are available at some motorcycle stores. The helmet also comes in size small/medium for small children. Similar leather hats are available from the suppliers listed below.
Amazon.com: search under leather aviator helmet or leather aviator hat.
Ebay: search under leather aviator hat, leather aviator helmet, or leather motorcycle hat.
Try to purchase hats from Amazon or Ebay without zippers, straps, or pockets because they are easier to work with.
Leather Pilot Helmet
Aviation Leathercraft - Flying Jackets - a Division of Moto-Lita Ltd.
Thruxton Airport, Near Andover,
Hampshire, SP11 8PW, England.
Telephone: +44 (0)1954 718686
enquiries@flying-jacket.com
Unlined Snoopy Leather Flying Cap
U.S. Wings
3390 Kent Road
Stow, OH 44224
Sales: 1-330-686-5973
Fax: 1-330-686-5970
www.uswings.com
Excellent source for cloth hats for day wear
SunGrubbies
7519 Convoy Court
San Diego, CA 92111
Tel: 888-970-1600
SunGrubbies.com
PLEASE NOTE: Amazon says they sell velostat hats but they are just plain hats without velostat. None of the hats are lined with velostat. Amazon will sell you velostat separately in sheets or rolls.
The ruler, scissors, sharp knife, and felt tip pens are available in any stationery store, craft store, or drug store.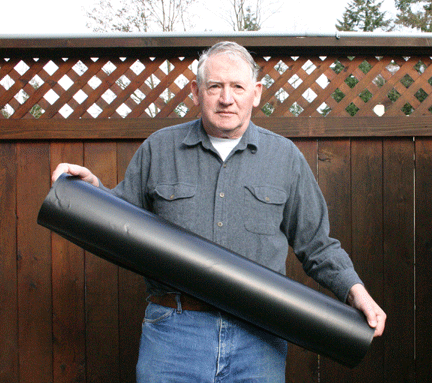 VELOSTAT
Velostat is sold by DESCO products.
Most suppliers only sell Velostat by the 150 foot roll. Some suppliers may sell Velostat by the linear foot or yard. You must contact individual suppliers to determine if they sell Velostat by the linear foot or yard.
DESCO sells Velostat but they still use the 3M part number 1704, 1706, or 1708.
Purchase a minimum of 3 linear yards if you are using 4 mil Velostat. It's a good idea to purchase an additional yard of Velostat just in case you make mistakes. If you use 4 mil Velostat, part number 1704, you must use 12 sheets for an effective thought screen. If you purchase 6 mil Velostat part number 1706, you need two linear yards for 8 sheets. If you purchase 8 mil Velostat, part number 1708, you only need a yard and a half for 6 sheets. Part number 1708 is thicker and harder to work with — and to sleep with.
To purchase Velostat in your area search the internet by entering DESCO Products into a search engine or look in the yellow pages of your local phone book under Electronic Equip & Supls - Whsle & Mfrs (Electronic Equipment and Supplies, Wholesale and Manufacturers). You cannot purchase Velostat in a hardware store or an electronics store.
You can get different widths, lengths and thicknesses of Velostat. Part 1706, 36" X 150' is recommended.
Here is the 2020 DESCO link
Ebay and Amazon.com are not recommended suppliers of Velostat.
LISTED BELOW ARE SOME SUPPLIERS OF VELOSTAT

Adafruit Industries sells thin Velostat, part number 1704, for $3.95 for an 11" X 11" sheet which is not large enough to line a thought screen helmet.
You need at 12 sheets if you try to make a thought screen helmet from these sheets. See https://www.adafruit.com/.
R.S. Hughes Company
7031 South 193rd St.
Kent, WA  98032
206-767-446
206-763-9512
https://www.rshughes.com
Al-Spec Static Controls Inc.
For a salesperson - sales@allspec.com
5228 US Hwy 421 N
Wilmington, NC 28401
Phone 800-537-0351
Fax 800-379-9903
www.allspec.com
Micro Parts and Supplies, Inc.
9606 Fox Shores Dr.
Algonquin, IL 60102
Phone 800-336-2131
Fax 847-516-0491
www.mpsuppliesusa.com
Less EMF Inc.
Sells Velostat by the foot
776B Watervliet Shaker Rd.
Latham, NY 12110
Phone 888-LESS-EFM (888-537-7363)
Outside USA: +1 (518) 608-6479
Fax: +1 (309) 422-4355
Email: lessemf@lessemf.com
Web: www.lessemf.com
NeutronCanada  (American Company)
220 Reese Road
State College, PA 16801
Sales: 800-813-4218
Tech Support and Returns: 1-814-231-3292
Fax: 814-861-8137
http://www.neutroncanada.com/
Industrial Electronics by Ross LLC
3256 S. 92nd St.
Milwaukee, WI 53227
(414) 276-1212
(414) 276-9778 (FAX)
(800) 242-7204 (within Wisconsin)
Email: indelect@execpc.com
http://www.industrialelectronics.biz
General Tool and Supply
355 Treck Dr # 110
Tukwila, WA 98188
206-762-1500
https://www.generaltoolworldwide.com
Allied Electronics
19625 61st Ave. S., Suite C105
Kent, WA  98032
1-800-433-5700
https://www.alliedelec.com
Radar Electric
22214 20th Ave. S.E., Suite 101
Bothell, WA  98021
800-282-2524
http://www.radarinc.com
Platt Electric Supply
2757 6th Ave. S.
Seattle, WA 98134
206-624-4083
Platt Electric Supply
Global Test Supply
312 Raleigh Street, Suite 9
Wilmington, NC 28412
888-610-7664
https://www.globaltestsupply.com
In Canada contact:
Joli Dist. F. Hendel, Inc. Montreal, Quebec
Tel: 514.335.3172
Tel: 1.800.335.3172
Fax: 514.335.4013
Ottawa, Ontario
Tel: 613.224.4707
Fax: 613.224.4371
http://www.jolitape.ca/
In the UK contact:
The Pi Hut
Raspberry Pi Store
Mann Enterprises LTD
Homefield Road
Haverhill, Suffolk
CB9 8QP
UK: GB15466199
Velostat page at The Pi Hut
For information on Velostat, go to Support Portal/Contact Us, select "submit a request," and fill in the form.
Cool Components Ltd.
250 York Road, Unit 208
London, SW113SJ
United Kingdom
Phone: 0871 288 7685
Email: sales @ coolcomponents.co.uk
https://www.coolcomponents.co.uk/
Search for Velostat
Note: The two English companies above sell the same Adafruit small pieces of velostat (11" X 11") for a high price. You will need about 12 sheets to make a thought screen helmet.
DESCOEUROPE
2A Dunhams Lane
Letchworth Garden City
Hertfordshire SG6 1BE
United Kingdom
01462 672005
Service@DescoEurope.com
Desco Europe
If you have trouble obtaining materials for the thought screen helmet, email the inventor at contact. All requests for information will be answered.
This is a nonprofit, public service, do-it-yourself website. Michael Menkin has no financial connection or relationship with any sources listed on this website.